Each week marketing titan Devin Herz will discuss marketing tactics and hot topics to help businesses succeed. Devin will be joined by business owners, marketing experts, and his team that will provide valuable business insight and has some fun while we are at it. With 28 years as a leader in the marketing world, Devin Herz dedicates his creativity and proven tactics to helping successful businesses become more successful! Founder of PrintAVizion and Dynamic Marketing Consultants, Devin has built a world-class team of marketing experts to make every aspect of your project remarkable. The team's unique approach to developing campaigns that disrupt will help you elevate response rates and instantly set you apart from your competition. Our team at DMC are experts at helping businesses succeed through creative marketing plans. Reach out to us if you're looking to amp up your marketing efforts. As always, thank you for following us, and be sure to subscribe to our YouTube channel. ► Subscribe to Our YouTube Channel | https://bit.ly/3f3Lm6W ► Where to follow and listen to Devin & DMC | https://yourdmc.com/dmc-links New episodes launch frequently, so stay tuned and subscribe for more DMC Marketing Nuggets!
Episodes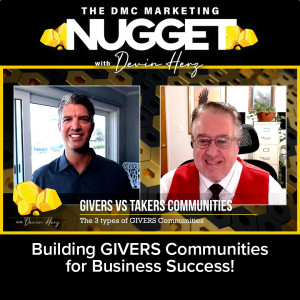 Monday Jun 06, 2022
Monday Jun 06, 2022
Join Devin Herz as he speaks with E. A. Csolkovits about the differences between a GIVERS Community vs a Takers Community, and What the 3 types of GIVERS Communities are?
Special guest, E. A. Csolkovits is the Founder and Patriarch of the GIVERS University, where he and his team help individuals form their own GIVERS communities to transform their personal, business, social, & family lives, into a life of increased & exceptional happiness, freedom & greatness.
Episode Takeaways:
► GIVERS Greater Community
► GIVERS Insider Community
► GIVERS Millionaire Community
Sign up for the FREE "GIVERS TOOLBOX" eNewsletter.
Are You ready to take action and get your marketing on autopilot?
Yes, I want to set my marketing on autopilot today!
► Follow and listen to Devin & DMC 
#DMCmarketingNugget #EACsolkovits #DevinHerz #giversuniversity #giversvstakers #giverscommunity #MarketingNugget #junto #giverstoolbox